Clint Hurdle Dismissed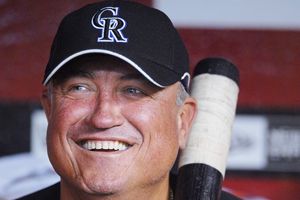 Rockies dismiss Hurdle; Tracy gets helm.
Colorado's poor start leads to end of eight-year run as skipper.
The Rockies dismissed manager Clint Hurdle and replaced him with bench coach Jim Tracy on Friday. The official announcement was made during a news conference at Coors Field.
The last straw for the Rockies was being swept at home in a three-game series this week by the Dodgers, with the Rockies being outscored by a combined 31-13. At 18-28, the club is a season-worst 10 games below .500, last in the NL West, and trailing the first-place Dodgers by 14 games.
Tom Reynolds, manager of the Rockies' Triple-A team in Colorado Springs, will be named bench coach to replace Tracy.
Hurdle, 51, went 534-625 (.461) as Rockies manager after taking over for Buddy Bell on April 26, 2002. He finished with one winning season. That was a doozy.
In 2007, the Rockies seemed headed once again for also-ran status, but they won 14 of their final 15 regular-season games. The last game was a 9-8, 13-inning victory over the Padres in a one-game showdown for the NL Wild Card. The Rockies swept the NL Division Series and Championship Series before being swept by the Red Sox in the World Series.
But the Rockies didn't maintain that momentum in 2008. With injuries to several key players during the first two months, inconsistent pitching and poor performances with men in scoring position, they fell to 74-88 last year. An offseason of coaching changes has not paid off in 2009.
Tracy, 53, is in his 32nd season of professional baseball as a player, coach and manager. The Rockies hired him as bench coach amid a flurry of changes during the offseasons.
Tracy has managed the Dodgers (2001-05) and the Pirates (2006-07), going 562-572. He led the Dodgers to the 2004 NL West crown with a 93-69 record. The Cardinals beat those Dodgers in the NL Division Series, three games to one.
Tracy came to Colorado along with hitting coach Don Baylor, third base coach Rich Dauer and bullpen coach Jim Wright.
Original Source :
http://mlb.mlb.com/news/article.jsp?ymd=20090529&content_id=5025916&vkey=news_mlb&fext=.jsp&c_id=mlb