Owen Benjamin And Christina Ricci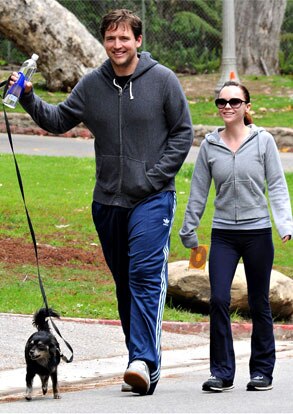 Inside Christina Ricci's Crazy Engagement Party!
Christina Ricci's gonna need an incredibly small bridal gown tailored to fit her diminutive size—as we've exclusively learned that the actress is engaged to her comedian boyfriend Owen Benjamin. (Calls to her reps, asking for official confirmation, have not yet been returned.)
The two babes of way disproportionate height met on set of their movie All's Faire in Love and went public with their relationship last October. Might seem pretty quick to get hitched, but not in T-town!
Congrats to the cute couple! Now check out the deets of their engagement party, and how Ricci couldn't keep her cool at her own celebration:
Our source was partying at the Palihouse in West Hollywood last Saturday night with his pals next door to the Ricci/Benjamin bash. He briefly spoke to Owen himself, who confirmed it was his engagement party, while Ricci and the couple's cohorts were in the room engaging in all types of typical late-night H-wood hotel room behavior.
Our source lost an amigo at his shindig, and called the dude's phone looking for him. Looks like somebody snuck into the wrong fete, since it was Christina Ricci who answered on the other line!
Acting out-of-it from indulging in silliness more appropriate for a bachelorette party, not an engagement soiree, CR started screaming she would "call the f—-cking cops" if our source kept calling her—even 'tho it wasn't her phone! Who knew such feisty things came in tiny packages?
Eventually our source's friend returned, confirming an oddly behaving Christina indeed snatched his cell—which she eventually gave back. Maybe she learned a thing from Lindsay nabbing that fur coat?
He was super pissed, but we think it's hysterical. Good luck with that, Owen!
Original Source :
http://www.eonline.com/uberblog/the_awful_truth/b104791_inside_christina_riccis_crazy.html