Shamrock Seeds Seizure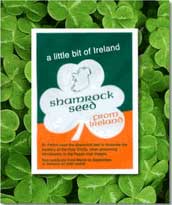 Feds Seize Shamrock Seeds at Dulles Airport.
Federal agents at Dulles International Airport have seized shamrock seeds from travelers arriving from Ireland — just days before St. Patrick's Day.
Customs and Border Patrol spokesman Stephen Sapp said the agents targeted the Aer Lingus flight on Thursday and had been searching for passengers carrying prohibited meat.
He says 16 packets of shamrock seeds were found among some pork and beef. A permit is needed to import the seeds.
Both the meat and shamrock seeds were destroyed.
Original Source :
http://www.foxnews.com/story/0,2933,509354,00.html