Ewings Sarcoma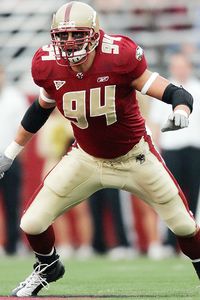 BC linebacker Herzlich fighting cancer.
Boston College linebacker Mark Herzlich, the ACC's Defensive Player of the Year, revealed Thursday that he is battling cancer.
Herzlich, a senior, was diagnosed with Ewing's Sarcoma, a cancer most often found in bone or soft tissue.
"Obviously, I was shocked. I had been extremely focused on preparing for my senior season at Boston College and for life beyond that. Now, I must channel all that energy into facing my toughest opponent yet, and that is exactly what I will do," Herzlich said in a statement released by the school.
Herzlich has returned to his native Pennsylvania to be near his family and undergo tests to determine a course of treatment.
Herzlich was a finalist for the Butkus Award, given to the nation's top linebacker, last season. He led the Eagles with 110 tackles, six interceptions, two forced fumbles and two fumble recoveries.
"When people think of Mark Herzlich, they think of a fearless individual who is always ready to take on a tough opponent. His integrity, determination and focus are unmatched. I know he will face this challenge with that same attitude," Boston College coach Frank Spaziani said.
Herzlich said he was unsure what his illness meant for his football future.
"At this point, I do not know what this means for my football future, but I am determined to rid my body of this disease so that I can put that uniform back on," he said. "Thank you in advance for your prayers and concern. Together, we will fight this and win."
Original Source :
http://sports.espn.go.com/ncf/news/story?id=4166736