Gordon Brown Defends Plans To Tackle Knife Crime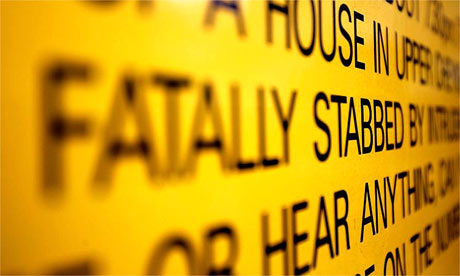 Those carrying knives are more likely to be caught, prosecuted and punished than ever before,
Gordon Brown
said today as he defended the government's shock tactics for tackling
knife crime
.
The prime minister used his monthly press conference to set out the government's response to growing public alarm over the recent spate of fatal stabbings.
"Too many people, young and old, do not feel safe in the streets, and sometimes even in their homes, as a result of the behaviour of a minority," Brown said.
"We need to make it absolutely clear to everyone, but especially young people, that in our country there are boundaries of acceptable behaviour, that it is completely unacceptable to carry a knife."
The prime minister promised tougher measures on "enforcement, punishment and prevention" of knife crime.
There would money made available for stop-and-search procedures, and a new presumption to prosecute offenders also meant they were ever more likely to be punished.
He said community sentences were being strengthened to make them "tough, visible and effective" and that the government would do more to prevent youngsters "falling into crime".
Early intervention would be extended to 20,000 families, who would face the threat of eviction if they failed to respond positively to support.
The home secretary, Jacqui Smith, yesterday rushed out plans to bring youngsters caught with knives face to face with the victims of stabbings in an attempt to deter them from carrying weapons.
But a leading accident and emergency doctor today warned that the proposal could lead to a "secondary victimisation" of individuals at the hands of the perpetrators.
Smith said that she believed that confronting offenders with the consequences of their actions was more effective than jailing anyone convicted of possessing a knife.
But the plan drew a scathing response from the opposition parties, who described it as "half-baked" and "ill-thought through".
Brown said the measure was "one of the ways" that knife crime would be tackled.
"I wouldn't want people to think there is one measure we are taking alone," he said. "There will be tougher sentences, tougher enforcement and a toughening up on prevention to tackle knife crime."
Smith's measures include visits by offenders to A&E wards where people are being treated for knife wounds, meetings with the families of stabbing victims and prison visits to offenders jailed for knife offences.
An A&E doctors' leader attacked the idea of bringing offenders into hospital, arguing that patients being treated in emergency departments would be in "extremely vulnerable states".
Donald MacKechnie, clinical vice-president of the College of Emergency Medicine, told BBC Radio 4's Today programme that the proposal was impractical for a busy emergency department, whose priority was the patient.
He said: "When someone is brought in having been stabbed or assaulted with a knife, it's a very emotive situation. Doctors and nurses first of all have got to assess the injuries and then manage those injuries.
"We certainly don't think it would be a good idea if then potential or actual perpetrators of knife crime were marched through to see these patients, who are in an extremely vulnerable state.
"It's tantamount to secondary victimisation of someone who has already suffered a horrendous insult to them. From a practical point of view, working in an A&E department, it's very difficult to see how this would work."
The home secretary defended her proposals, as she rejected Tory demands that anyone caught carrying a knife should expect to go to prison.
"I am very keen that we make people face up to the consequences. In my book it is tougher than simply saying there is one simple solution and that is: everyone goes to prison," she said.
However, the shadow home secretary, Dominic Grieve, said that "ill-thought-through, piecemeal announcements and failed initiatives" were nowhere near enough to deal with the problem.
"Sending serious offenders to visit victims in hospital in is not anywhere near the same as sending them to prison," he said.
Chris Huhne, the Liberal Democrats' home affairs spokesman, said that Smith had been "panicked" into bringing forward proposals that evidence in the United States had shown did not work.
The government is expected to come forward with more detailed proposals tomorrow when it publishes its £100m youth crime action plan.
Meanwhile Deputy Assistant Commissioner Alf Hitchcock of the Metropolitan police, who has been appointed to coordinate the police effort across eight "hot-spot" areas, warned last night that attacks were becoming more serious while victims and assailants were getting younger.
Original Source :
http://www.guardian.co.uk/politics/2008/jul/14/justice.knifecrime