Tropical Storm Moves Over Mexico's Yucatan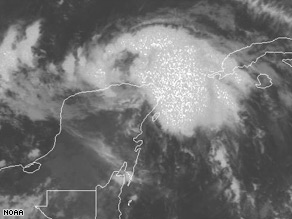 MIAMI, Florida (CNN)
-- A tropical storm warning remained in effect Monday as Tropical Storm Dolly moved over Mexico's Yucatan Peninsula.
Dolly has spurred storm warnings from the Mexico-Belize border northward to the city of Campeche, on the opposite side of the Yucatan Peninsula. The warning encompasses the tourist resort of Cancun.
At 5 a.m. ET Monday, the storm was about 150 miles (240 kilometers) east of Progreso, Mexico.
The National Hurricane Center said the storm is moving northwest at about 15 mph (24 kph) and is expected to cross the Yucatan Peninsula and enter the Gulf of Mexico later Monday.
By Tuesday, Dolly could become a hurricane, the hurricane center reported.
Meanwhile, forecasters dropped warnings for the North Carolina coast after Tropical Storm Cristobal began turning away from land. Storm warnings that had been posted for the North Carolina coast were lifted Sunday night.

Watch as Dolly is expected to strengthen over the Gulf of Mexico »
Cristobal evolved Saturday from a tropical depression that formed Friday. Dolly became a tropical storm Sunday, forecasters said. The Atlantic hurricane season began June 1 and ends in November.
Original Source :
http://www.cnn.com/2008/US/weather/07/21/tropical.weather/