Sara Jane Olson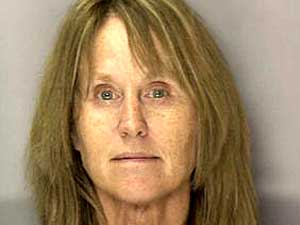 Sara Jane Olson's friends loyal, mostly silent.
Sara Jane Olson's friends and supporters in Minnesota have stayed loyal over the years, but they've grown increasingly silent as her release from prison approaches.
Olson was exposed in 1999 as Kathleen Soliah, a 1970s radical with the Symbionese Liberation Army who became a fugitive after the attempted pipe-bombings of Los Angeles police officers and a fatal bank robbery near Sacramento. Until authorities acting on a tip pulled over her minivan in St. Paul, her friends knew her as a housewife, mother of three daughters, volunteer and actress.
On Tuesday, after seven years in prison, Olson will go free. Now 62, she plans to return to Minnesota to serve her parole.
Her local supporters have included progressive activists, a few politicians, members of the theater community, professors and attorneys. Olson and her husband since 1980, Dr. Gerald "Fred" Peterson, were known among their friends for the dinners and parties they hosted.
Andy Dawkins, a Democratic former state representative from St. Paul and a family friend for close to 30 years, remains one of her most outspoken supporters.
"She was a wonderful mom and a wonderful asset to our community and did all sorts of things to help people," he said.
But Dawkins was one of the few close to Olson willing to talk ahead of her release. Many others who've spoken out or contributed money over the years were unwilling or reluctant to comment this past week.
"I don't have anything to say," snapped Wendy Knox, artistic director of the Frank Theatre and a longtime friend of Olson's. "Every time something happens in that case I get 50,000 calls from reporters."
The reluctant include Brendan Coleman, who said he's already said about all he cares to on the subject.
"I'm happy for her. I'm going to leave it at that," said Coleman, who used to play guitar in a reggae band with Olson's husband. In 1984 he recruited their family to join Minnehaha United Methodist Church, a progressive congregation in Minneapolis where he was director of contemporary music.
Olson's family has said little about the case over the past decade, and Peterson declined an interview request, saying they want to be left alone.
"Her release of course is a great relief, certainly not as difficult as one more day of incarceration. ... We need to regroup in our home, and preserve our privacy as much as possible, and get our lives coordinated again. We're very happy to reunite," he said in an e-mail. The family still lives in St. Paul.
Olson's supporters may be reticent because they came to realize that public discussion didn't help her cause, said Stephen Cooper, an attorney who helped set up her bail fund.
"These were very private issues and there wasn't any great gain in getting them out into the media," he said.
Many on the left have said Olson's past with the SLA in the 1970s, when she was in her late 20s, should be viewed in the context of those turbulent times. But many on the right view her simply as a domestic terrorist who participated in the SLA's attempt to kill police officers by planting pipe bombs under two squad cars—they failed to explode—and in a bank robbery in which Myrna Opsahl, a 42-year-old mother of four who was depositing a church collection, was slain.
Cooper agreed that people's feelings about Olson have been shaped by what side of the cultural divide they were on.
"Probably for those close to Sara, they came to realize that reopening that divide was not going to close it. That divide was there and is there. It's probably better for Sara to be treated not with the mantle of some sort of icon, but with the mantle of who she is," he said.
One Minnesotan who won't be welcoming Olson's return is Mark Koscielski, a gun store owner who gained notoriety after her arrest by producing bumper stickers that said "Fight Terrorism—Jail Kathleen."
"I think I've been the only one in Minnesota who's had anything bad to say about Sara Jane Olson. And all those bad things I said hold true to this day," he said.
Koscielski (pronounced koh-SHEL'-skee) said he sold about 3,000 of the bumper stickers back then, and donated about $1,500 of the proceeds to the Los Angeles Police Department's widows and orphans fund, as well as $500 to $1,000 to a similar local fund.
"The fact that they're going to release her is a sad day for the law enforcement community. It's really bad when you allow someone out that was hell-bent on killing cops," he said.
The St. Paul Police Federation would rather she stayed in California.
Dave Titus, president of the union, wrote to California Gov. Arnold Schwarzenegger last week on behalf of his 650 members, opposing her effort to serve her parole in St. Paul. Like many of her critics, he still uses her old name of Kathleen Soliah.
"Returning Soliah to the same neighborhood that harbored her during her 24-year flight from justice is hardly conducive to strict parole monitoring," Titus wrote. "If having a convicted domestic terrorist living in their midst didn't bother her neighbors, why would the state Department of Corrections think they would report her if she violated parole?"
Original Source :
http://www.mercurynews.com/breakingnews/ci_11919819